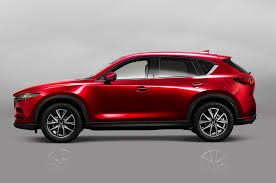 Mazda CX-5 is the right choice over Honda CRV and Toyota Rav 4 for New Hampshire drivers.
Mazda CX-5 vs. Honda CR-V
The base Mazda CX-5 is priced considerably lower than the base Honda CR-V, saving you over a thousand dollars when comparably equipped.
-CX-5 has less horse power, but has considerably better gas mileage efficiency. 
-Mazda CX-5 offers navigation and telematics system on base model where CRV does not
- CX-5 as a higher towing capacity then Honda CRV
 Mazda CX-5 vs Toyota RAV4
-The Base Mazda CX-5 comes in at a starting MSRP lower then the Rav-4 with similar equipment.
-The Mazda CX-5 has better fuel efficiency at 26 mpg city/33highway vs 24 and 31 for the Rav-4.
-Mazda CX-5 has a lot more front shoulder room and rear Hip room
-Standard towing capacity is lower on the Rav-4.

*EPA-estimated mileage. Actual results will vary.